RGBCW WIFI+BLUE Flat Fascia Smart Downlight
Features
Spec & Models
Service
RGBCW WIFI+BLUE Flat Fascia Smart Downlight 
1. Plastic cover aluminum materials, high cost effective, high heat dissipation, IC-4 Rated.
2. Integrated housing design, internal driver, the appearance of this light is more elegant.
3. Appropriate height of the light, it's suitable for the using of most of the housings.
4. SMD Smart Downlight, CCT, RGB, RGBW, RGBCW are optional on this light.
5. Most of functions of this smart light can be customized on the devices.
6. Multi communication protocol ways can be chosen, wifi, wifi+bluetooth, bluetooth mesh (SIG), zigbee.
7. Customized the control ways with us. Optional to OEM app, remote controller, smart audio, motion/ light sensor, switch dimmer.
8. If you have your own app or devices of the smart downlight, pls let us know. We can customize the light to be fitted for your app and devices.
9. High out-put of the light, the lumen efficiency of this smart light on CW can be up to 100lm/w.
10. Optional to use metal fascia on the light. Chrome, nickel, zinc, silver, black , copper and golden fascias all can be done.
11. SAA, C-Tick, CE can be provided for you.
Set the CCT of the light on different scenes and different places.

With the plug on the light, easy to be installed. Step 1, plug leadwire, step 2, connect the light with the app or devices. Step 3, install it into the cut hole.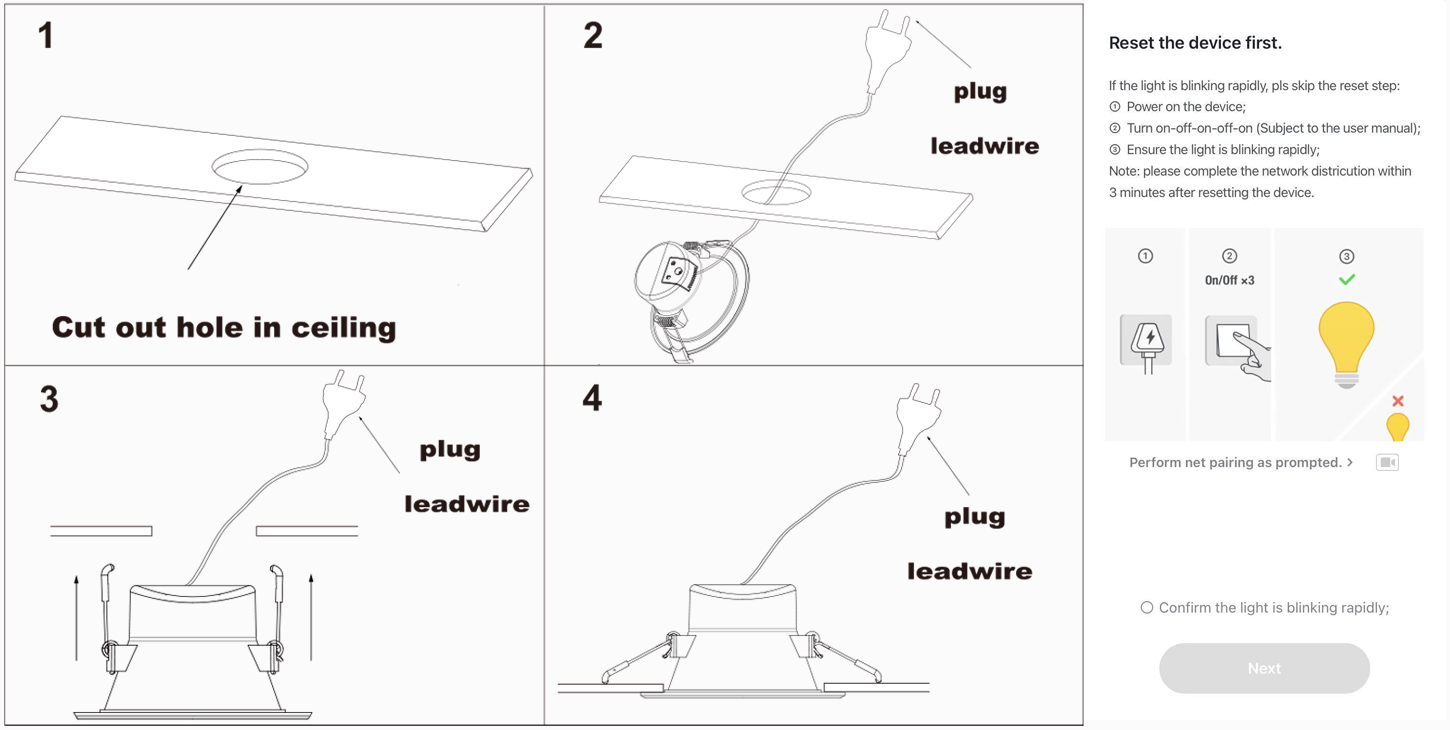 Technical Parameter
Input Voltage
200V-240V
CRI (Ra>)
80,90
Power Factor
>0.5/ >0.9
Working Frequency
50/60HZ
Power
5W, 8W
Cut Out
90mm
Diameter
115mm
Height
55mm
Temperature
-20

~

50℃

Lifetime
30000h
IP Rating
IP44
Materials
Plastic cover aluminum
Light Source
LED
LED Chip
SMD 2835
CCT
3000~5000K, RGB, RGB+3000K/ 4000K/ 5000K, RGB+ 3000~5000K
Beam Angle
100°
Light Color
Natural/ warm/ cold
Fascia
Flat
Models
| | | | |
| --- | --- | --- | --- |
| Model | Power | Colour Temperature | Communication protocol ways |
| DL01-03-08-CW-WI-F | 8W | 3000K-5000K | Wifi |
| DL01-03-08-CW-WI+BL-F | 8W | 3000K-5000K | Wifi+Bluetooth |
| DL01-03-08-CW-BLM-F | 8W | 3000K-5000K | Bluetooth Mesh |
| DL01-03-08-CW-ZIG-F | 8W | 3000K-5000K | Zigbee |
| DL01-03-08-RGB-WI-F | 8W | RGB | Wifi |
| DL01-03-08-RGB-WI+BL-F | 8W | RGB | Wifi+Bluetooth |
| DL01-03-08-RGB-WI-F | 8W | RGB | Wifi |
| DL01-03-08-RGB-WI+BL-F | 8W | RGB | Wifi+Bluetooth |
| DL01-03-08-RGBW-WI-F | 8W | RGB+3000K/4000K/5000K | Wifi |
| DL01-03-08-RGBW-WI+BL-F | 8W | RGB+3000K/4000K/5000K | Wifi+Bluetooth |
| DL01-03-08-RGBW-WI-F | 8W | RGB+3000K/4000K/5000K | Wifi |
| DL01-03-08-RGBW-WI+BL-F | 8W | RGB+3000K/4000K/5000K | Wifi+Bluetooth |
| DL01-03-08-RGBCW-WI-F | 8W | RGB+3000K~5000K | Wifi |
| DL01-03-08-RGBCW-WI+BL-F | 8W | RGB+3000K~5000K | Wifi+Bluetooth |
| DL01-03-08-RGBCW-WI-F | 8W | RGB+3000K~5000K | Wifi |
| DL01-03-08-RGBCW-WI+BL-F | 8W | RGB+3000K~5000K | Wifi+Bluetooth |