RGBW COB Gimbal Smart Downlight
Features
Spec & Models
Service
RGBW COB Gimbal Smart Downlight
1. High output COB LED chip, beam angle 38 degree standard, optional 15 degree, 24 degree
2. The bracket mechanism ensures optimum tilting function 60º (-15º ~ +45º) and rotating 340º
3. Die-casting aluminum materials on this gimbal smart downlight, excellent heat dissipation, the power for this 90mm cut-out gimbal smart downlight can be up to 15W, IC-4 rated.
4. Colour temperature of this smart downlight is optional to be CCT, RGB, RGBW, application to accent lighting.
5. You can change the colour temperature of the light to change the atmosphere of your home.
6. Group control, can control multiple lights at the same time and also can control the light and other household electrical appliances together.
7. According to WIFI remote, you can controlled your smart downlight through your phone from anywhere.
8. Excellent dimming performance, dim from 5% to 100% fluently.
9. SAA, C-tick, CE approved.
The colour and brightness of the downlight can be adjusted through the app, smart downlight will make our life more colourful and brighter.
Set the different colour of the different scene on your house, office, party, shop etc.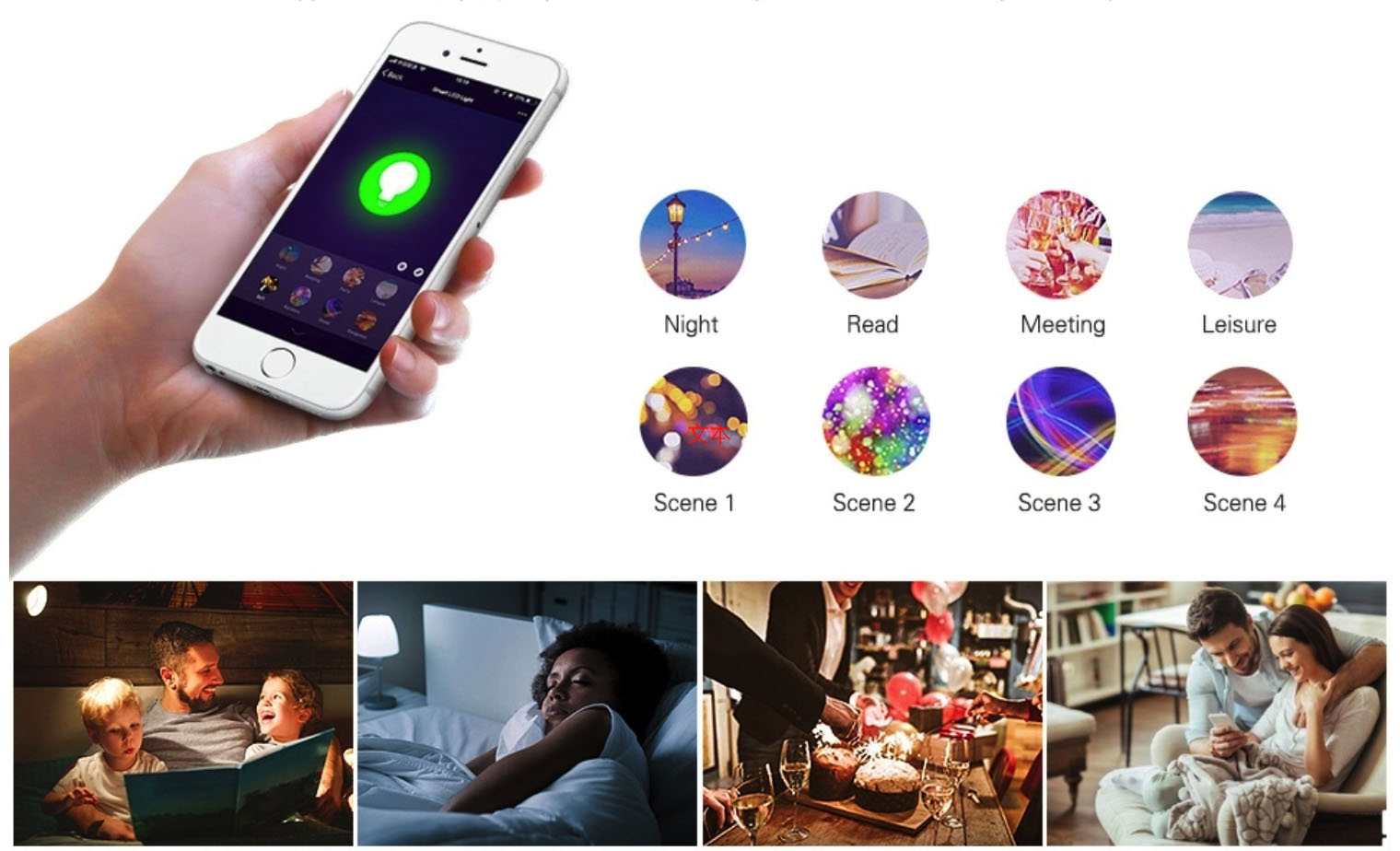 Easy to be installed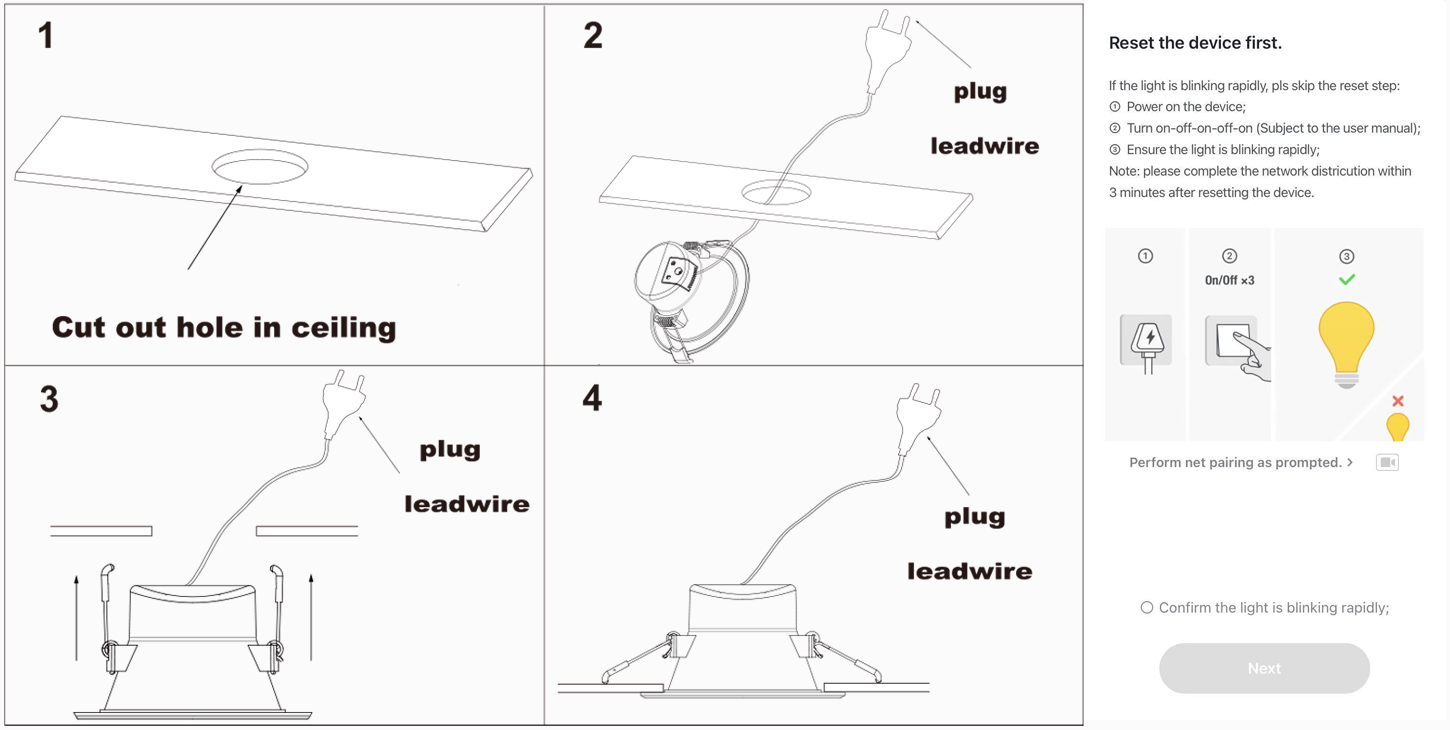 Technical Parameter
Input Voltage
200V-240V
CRI (Ra>)
80,90
Power Factor
>0.9
Working Frequency
50/60HZ
Power
12W, 15W
Cut Out
90mm
Diameter
102mm
Height
80mm
Temperature
-20~50℃
Lifetime
30000h
IP Rating
IP20
Materials
Die-casting Aluminum
Light Source
LED
LED Chip
COB
CCT
CW, RGB, RGBW
Beam Angle
15/24/38°
Fascia
Flat
Installation
Recessed
Control
Tuya app, Alexa, Google Home, Siri voice, Remote Controller
Functions
CCT/ Light colour change, Scene Model Setting, Wake up, Time setting, Group Control
Models  
| | | | |
| --- | --- | --- | --- |
| Model | Power | Colour Temperature | Communication protocol ways |
| DL05-03-12-CW-WI | 12W | 3000K-5000K | Wifi |
| DL05-03-12-CW-WI+BL | 12W | 3000K-5000K | Wifi+Bluetooth |
| DL05-03-12-CW-BLM | 12W | 3000K-5000K | Bluetooth Mesh |
| DL05-03-12-CW-ZIG | 12W | 3000K-5000K | Zigbee |
| DL05-03-12-RGB-WI | 12W | RGB | Wifi |
| DL05-03-12-RGB-WI+BL | 12W | RGB | Wifi+Bluetooth |
| DL05-03-12-RGB-BLM | 12W | RGB | Bluetooth Mesh |
| DL05-03-12-RGB-ZIG | 12W | RGB | Zigbee |
| DL05-03-12-RGBW-WI | 12W | RGB+3000K/4000K/5000K | Wifi |
| DL05-03-12-RGBW-WI+BL | 12W | RGB+3000K/4000K/5000K | Wifi+Bluetooth |
| DL05-03-12-RGBW-BLM | 12W | RGB+3000K/4000K/5000K | Bluetooth Mesh |
| DL05-03-12-RGBW-ZIG | 12W | RGB+3000K/4000K/5000K | Zigbee |
| DL05-03-12-RGBCW-WI | 12W | RGB+3000K~5000K | Wifi |
| DL05-03-12-RGBCW-WI+BL | 12W | RGB+3000K~5000K | Wifi+Bluetooth |
| DL05-03-12-RGBCW-BLM | 12W | RGB+3000K~5000K | Bluetooth Mesh |
| DL05-03-12-RGBCW-ZIG | 12W | RGB+3000K~5000K | Zigbee |